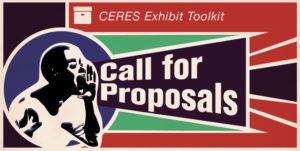 Deadline: March 16, 2020
Apply here: http://dsg.neu.edu/projects/new-projects/project-application
The Northeastern University Library's Digital Scholarship Group (DSG) invites proposals from faculty who want to incorporate a digital exhibit assignment into their Fall 2020 and Spring 2021 courses. We can work with you to develop assignments using the CERES Exhibit Toolkit, a WordPress add-on developed by library staff.

CERES can help students create complex, archival-quality digital exhibits, based on materials stored in Northeastern's Digital Repository Service (DRS), the Digital Public Library of America (DPLA), and potentially from other open repositories as well. We invite proposals from faculty who want to incorporate a digital exhibit assignment into courses in Fall 2020 and Spring 2021. The deadline for proposals is March 16, 2020. 
The CERES Exhibit Toolkit, created and maintained by Library staff, is based on WordPress, a common and user-friendly method for creating web sites. CERES is used to create websites that dynamically integrate a variety of digital media into scholarly narratives and exhibits, while keeping this media preserved in a long-lasting archive. 
Using CERES in the classroom can allow students to
Create and contribute to long-term research projects

Perform original, archival research

Create new, public scholarship in a hands-on environment

Explore concepts in digital preservation, visual design, public communication, and humanities data. 
For an example of previous class assignments using CERES and WordPress, see:
When working with accepted proposals, DSG staff offer support like: 
Assistance with planning the scope, pace and scaffolding of student exhibit assignments

Setting up a WordPress site and appropriate templates for students to use

Training students or teaching assistants in the use of WordPress and CERES  

Training students or teaching assistants in website basics such as writing for a target audience, basic information architecture, online storytelling, and accessibility. 

Guiding students on the responsible use of content

Preparation of supporting course materials and handouts
Applicants will be notified by April 10, 2020, and planning meetings for accepted proposals will begin in April or May. We are happy to meet with anyone interested in submitting a proposal to discuss project options and answer questions: contact us at dsg@northeastern.edu. 
Apply here. We look forward to working with you!