Thanks to the hard work of DSG intern Kaley Bachelder, the CERES: Exhibit Toolkit Documentation site has a fresh new look and updated, improved content that will help toolkit users edit their sites.
Some highlights of the updated User Guide include clearly labeled screenshots of various processes, examples of the toolkit in use, and a revised appearance.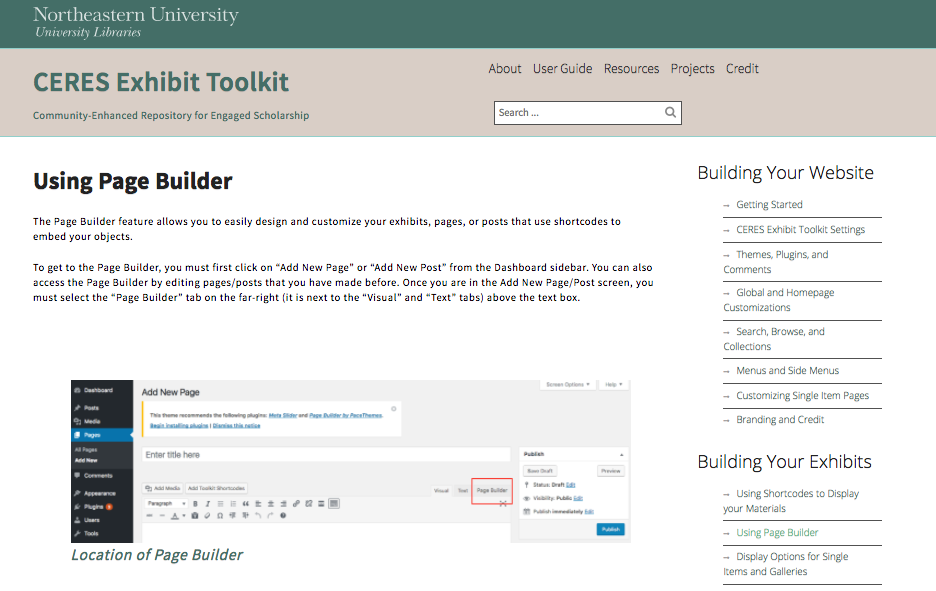 Users can review how to change toolkit settings, customize the look of your site, and create new posts and pages. You can also browse examples of ways to use the toolkit's multimedia display features, such as maps, playlists and timelines, and learn how to implement these on your site.
As a reminder to all toolkit users, you can always get a refresher on how to use Page Builder on the documentation site. 
As always, we welcome feedback from toolkit users on your needs and the toolkit documentation. Feel free to drop a line to Caroline Klibanoff, DSG Coordinator, at c.klibanoff@northeastern.edu.