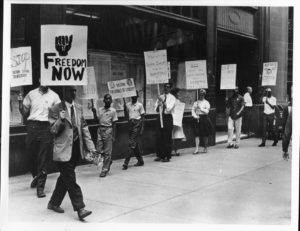 Nearly 9,000 primary source documents and images curated and digitized by Northeastern University Libraries' Archives and Special Collections are now available in the Digital Public Library of America. The DPLA is a national resource that brings together digital materials held by American libraries, archives, and museums. Northeastern University Libraries' contribution to DPLA was made possible through our membership in Digital Commonwealth (our local DPLA Hub), who harvest the metadata and thumbnails from the DRS and make them available in the DPLA.
The full set of contributed materials include videos from Northeastern's Holocaust Awareness Week programming, records from the Inquilinos Boricuas en Acción community development program, and many more. More than a third of the contributed materials document the desegregation of Boston Public Schools and busing of students in the 1970's and 1980's. With assistance from the library's Digital Metadata & Ingest group, Archives staff organized, selected, and digitized approximately 3,300 photographs, documents, and other printed ephemera created in the years before and after the busing proclamation was issued by Judge Garrity in 1974.
The Archives chose to focus on Boston's history of desegregation as part of a coordinated effort with other institutions in the Boston Library Consortium to collect and digitize materials that "illuminate the complexity of state- and city-wide politics, community activism, and advocacy." As Northeastern, UMass Boston, Suffolk University, and other Boston-area institutions make their primary source materials available to the public, the DPLA's collection of artifacts documenting the desegregation of Boston Public Schools will grow. The end result will be a robust shared archive that will aid in national teaching and learning activities focused on the history and legacy of segregation and racism in the Unites States. The Boston Public Schools, for example, are already integrating these primary sources into the curriculum in an effort to "ensure that every Boston Public Schools student learns about this important and troubling chapter in our city's history."
These 9,000 files are just the beginning of Northeastern University Libraries' contribution to the DPLA; we will continue to contribute to Digital Commonwealth and DPLA as more materials become available in our the DRS.